Day 4.
With the plan to be ready for coffee and breakfast by 7.30, I'd set my alarm for 6.30, but at 5am, I found myself awake and unlikely to get back to sleep, so I got up and thought I'd get a head start on the prep activities. I updated the flight plan, with the latest wind forecasts and reviewed the predicted weather along the route. It hadn't changed much from the previous day, with just the forecast for Archerfield continuing to predict a cloudy afternoon with a chance of rain.
I was less worried about the rain on the way home, as it was still predicting light rain, and unlike the trip out to Birdsville, the return trip is littered with airports along the way that we could easily stop at if needed.
About 5.30, I started taking my stuff out to the plane and loading it for the trip, doing all of the daily checks, adding some oil, and doing a general once-over. The Birdsville aviation team was also up setting up their plane for the day. They were about to head south with a group of people to catch the sunrise.
I got a text from Drian that he was also up and ready when I was, so when I mentioned I was already at the plane, he came out with his gear and started loading it as well. I left him in charge of grabbing all the tie downs, and chocks while I finished the walkaround and prep of the plane.
At 5.45-6am, it was still pitch black at the airport, so I was doing my walk around with a headlight on. There are different requirements for the plane's condition for Day flying vs Night flying, but generally speaking, I always check the plane off against the Night flying requirements just in case. As luck would have it, this was about to come in real handy.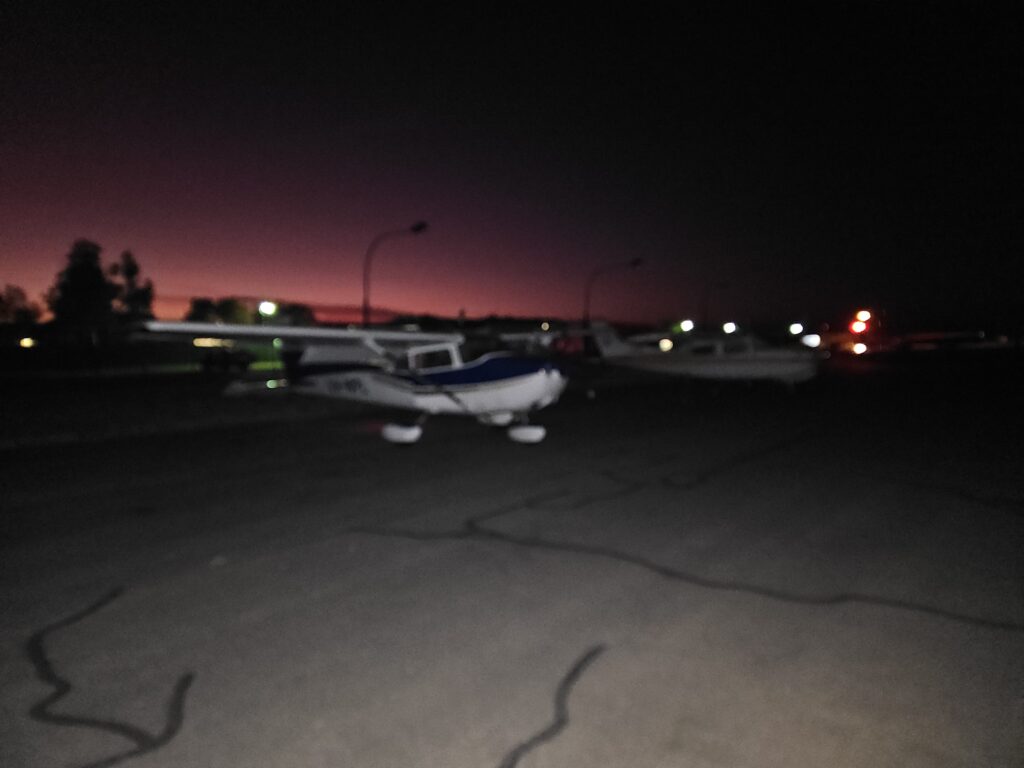 By about 6.20, the plane was ready, we were ready, and all that was left was to wait for the bakery to open so we could get coffee and food, which wouldn't be for another hour or so. However, both of us were eager to start the day, and we did have some breakfast bars in our pockets, so we made the decision to just start our journey home.
First light still wasn't due for another 30 minutes, but since the plane was already checked for night conditions and I had the necessary night equipment on me, I quickly grabbed the grid lowest safe altitude (the minimum height you are allowed to fly at during night conditions to ensure there is no pancaking into mountains), updated my flight plan, and search and rescue (SARTIME) and we were ready to go.
Video of the take off:
https://www.dropbox.com/s/czdas0zj8rjhrs2/GH010447.MP4?dl=0
https://www.dropbox.com/s/hg2ocyhjwbv1ubh/GH010448.MP4?dl=0
The wind was calm, so we took Runway 32, the closest runway to the parking area, and off we went. One of the requirements for night flying is that you have to be at your lowest safe altitude within 3 miles of the airport, or you circle climb about the airfield until you are, so we started our circling climb above Birdsville, hit our required altitude, and turned east for the trip back to Charleville.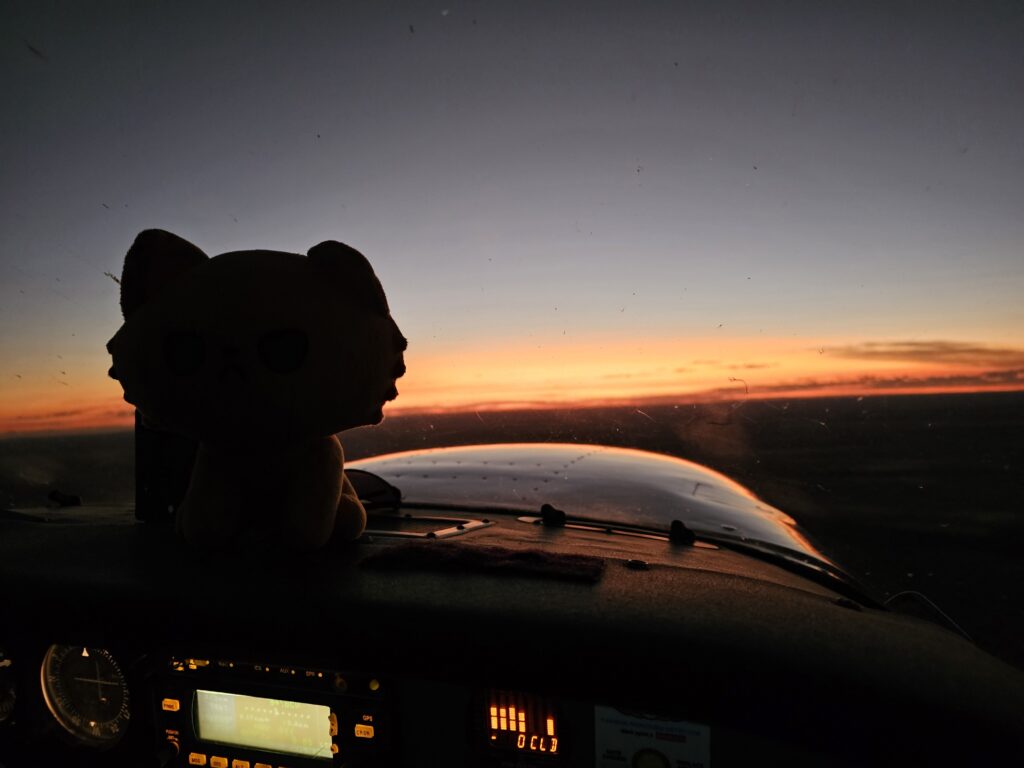 We got some pretty great photos of first light, and the sun rising over the horizon to the east.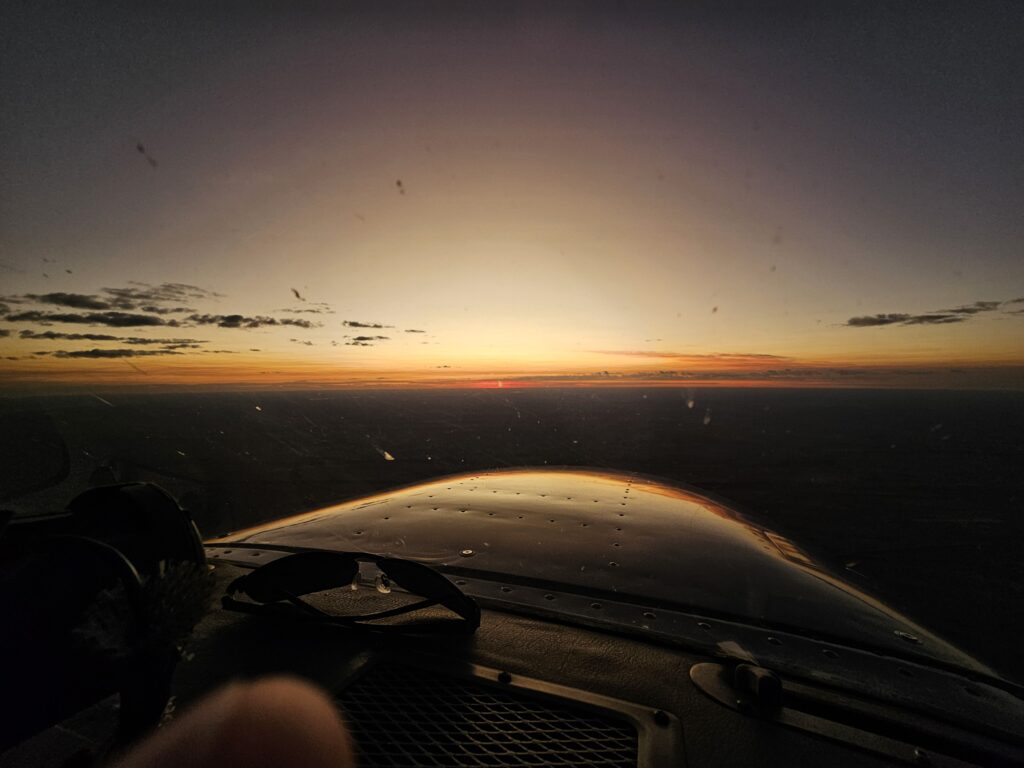 The autopilot was being temperamental again; clearly it wasn't happy with the lack of coffee either, but it did come good, which made the next 3 hours pretty uneventful, with us just having some light chitchat or quiet time listening to music again.
Back into Charleville, we were met with a plane coming in from the east who graciously agreed to land behind us, and we taxied over to get fuel again. We were expecting the South West crew to be around, but for some reason they weren't, so we had to do all the fuel stuff ourselves this time around. Afterwards, we pulled the plane out of the way and put it in the parking spot so we could go use the bathroom and have a break, while others were filling up.
Sadly, we found nothing open on the airfield—no cafe, no shops, nothing—so our desire to get some food and have a longer rest came to an end very quickly, and once again, we just made the decision to get on with it.
A new flight plan, a new SARTIME logged, and up we went again, for the final leg home.
We'd been flying around 6500ft for the first leg, and that was our intent for the second leg, but about half way home we started to encounter the clouds that were forecast. We dropped down to 4500ft for about 40 minutes, but the clouds got lower, and down to 2500ft we went.
And as expected, that's when it got bumpy. This reaffirmed my decision to make the trip home in one day. It would have been pretty horrible to do 7 hours of flying in those conditions, which was a possibility if we had stayed longer or split the flight into multiple days.
We were about an hour and a half from home by this point, just west of Oakey Airforce Base, which was conveniently closed for the weekend, so no airspace requirements needed to be met.
I'd been keeping an eye on Amberley's airspace on OzRunways; it had opened for a bit and closed for a bit, and just as we were passing Oakey, it looked like it was coming active again, but we caught the end of another pilot wanting to clarify Amberley's status and heard that it was likely closed for the next few hours.
We got to Toowoomba, around the ranges, where both Toowoomba Airport, Welcamp Airport, and the Towoomba hospital seemed to all be busy with air traffic. We checked in again with the Brisbane Airspace Controllers and found that Amberley was indeed still closed, so we kept our straight line to Archerfield going.
By pure coincidence, our flight path was going to put me right over my boss's house. So I sent him a message to let him know some unruly workers of his would be above his house shortly if he was home and wanted to catch the return leg of our flight. He let us know he was out front working, so we made sure to give the plane a good waggle over his house.
The weather was still not great, and Archerfield was advertising a lowish cloud base and that most flights in and out were going on in Instrument conditions (aka not my type of flying). but we were still within our flight requirements, so no real drama for us.
We hit Goodna, which is the entry point to Archerfield from the west, and called to get our inbound clearance – Was definitely a sight/sound for sore eyes/ears hearing the Archerfield controllers and being back in sight of the home airport.
Straight in for Runway 10R was our clearance, and straight in to Runway 10R we went. There was another plane coming in from the north that was heading for the 10L runway so we couldn't get the closer runway to the hangers.
A few minutes later, we were back on the ground, having finally made it home. We got taxi clearance back to the hanger but had to hold for crossing the 10L runway. I was starting to wonder what was going on, as I couldn't see a landing plane and couldn't see another plane taking off. Suddenly we see one of the warbirds screaming down the runway, and with that, the hold was worthwhile getting to watch it take off 😀
One more clearance later, and a few minutes of taxi'ing later, the plane was back in the hanger. All that was left was to wash the bajillion bugs off the paint and windows, cancel our SARTIME, unload our gear, and do the thing that every pilot loves: paperwork. As an aside, pilots should never do math after long flights; they always mess it up, and I'm pretty confident that when I grab the log books later for the syndicate, I'll have made a mistake somewhere.
We took the final Grumpy Cat photos of the trip, and at 15.00 on Saturday, we were back home, having flown 1644 nautical miles, 16.1 hours of flying, and spent more money than I care to admit on fuel.