Earlier this year, a bunch of friends from work decided that they wanted to go on an outback adventure trip, visiting Alice Springs, Uluru, and Birdsville. I wasn't really interested in going on a 2-3 week car ride, but Birdsville has always been on the list of places I'd like to fly out to, so I started making some plans to potentially fly out and meet with the team.
Having joined a syndicate with two C172s about 2 years ago, having access to a plane that I could take away for a week or two was now a much easier possibility to manage – So once the group had settled in on some dates, I booked out one of the planes (which just happens to be my favourite) for the duration that I wanted to go +/- a day for potential weather related issues.
This trip was the first where fuel and route planning were significantly more important, as normally with the locations I fly, I easily have enough fuel to get there and back without stopping or needing more – But at 6.5–7.5 hours total flying in a plane with a 5-hour duration, that becomes not possible very quickly.
I also had some questions about whether I should attempt to fly it all in one day or stop over somewhere for the night – Turns out the answer is both, but I wouldn't know that until the final day.
I was debating doing 3 legs, something like Archerfield -> Roma -> Windorah -> Birdsville, or Archerfield -> Charleville -> Birdsville, and after a discussion with someone who had done the trip recently, I made the decision to stop in Charleville, which is pretty much spot on the halfway point.
I'd also been debating whether I should do this trip on my own, or if I should go looking for someone to tag along for the flight – I was undecided until the week before, when another colleague from work expressed an interest in coming, and that sealed the deal.
Because I'm a VFR pilot, bad weather or low clouds can be an issue for me, so I had left booking accommodation to the last minute to see what the weather would be like, and I was extremely lucky that at the last minute there were some cabins available in Birdsville and that one place in Charleville had a twin share room available. My backup plan was to camp with the guys who were in cars, but after some long flights, I thought having a proper bed and a good night's rest was probably crucial.
I called all of the airports I planned on stopping at to get an understanding of any local restrictions, to confirm that they had fuel available, and to get an understanding of any special ways that they require payment for fuel, etc – For example, in Birdsville you must use an app called FuelCharge to activate the fuel pumps. On these calls, I was also lucky to chat with the team at South West Air Services at Charleville, who gave me some recommendations for accommodation, where to keep the plane, and mentioned that they have a curtesy car that they lend out for free if you buy fuel, on a first come / first served basis, and that I was welcome to use it for the night if it was there when I got there.
With the destination locked in, the stops identified, passengers sorted, and accommodations found, all that was left was to do the actual flight planning. I'm fortunate that the plane I fly in has a functional GPS, and I have an iPad with Ozrunways moving maps, but for a flight like this, I was pretty paranoid about ensuring I had appropriate backups, so I ended up with a folder with printouts of every airport in the vicinity, hard copies of the relevant World Aeronautical Charts (WAC), two iPads, two mobile phones, two backup batteries, plus hookups in the plane for power if I wanted. And that's not counting whatever devices my passenger for the trip had with him. The maps, when laid out end to end, took up my entire kitchen bench (see below).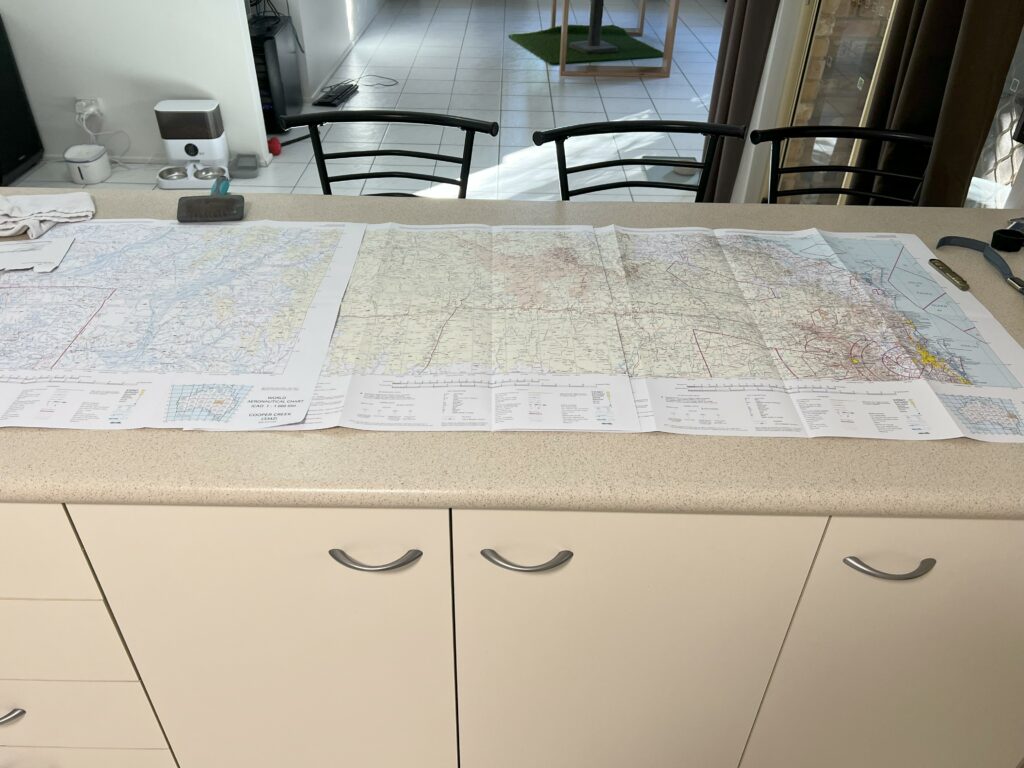 Lastly, where we were off to is classified as a "Designated Remote Area" – which means that there are some additional requirements for the trip – CAO 20.11 requires that aircraft flying in designated remote areas carry 'survival equipment for sustaining life appropriate for the area being overflown'. I boiled this down to basically carrying a metric ton of water, food, appropriate clothing, and an emergency locator. As well as ensuring I had a "responsible" person informed where I was going to be at all points, and making sure I logged a flight plan for each leg, with an appropriately nominated Search and Rescue (SARTIME) time established.
All that was left was to pick an appropriate mascot for the trip and get underway.
Enter Grumpy Cat.